What's happening, what's next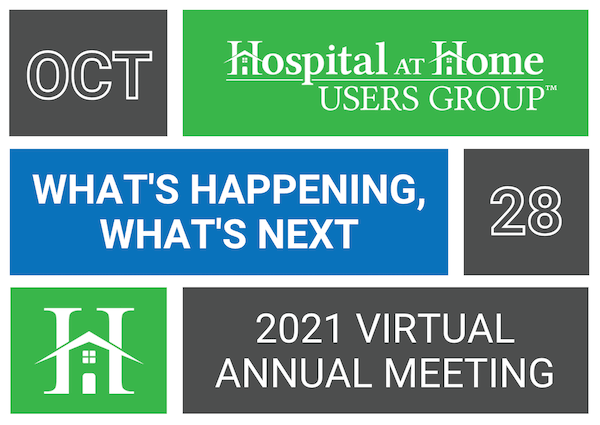 Registration is NOW OPEN for the Hospital at Home Users Group™ 2021 Virtual Annual Meeting, What's Happening, What's Next, featuring:
A keynote by Lee A. Fleisher, MD, Chief Medical Officer of the Centers for Medicare & Medicaid Services
Presentations from experts in delivering high quality acute care in older people's homes
A poster session, innovation presentations, awards, photo contest results, and much more!
From 11am-5pm ET on Friday, October 28, our Annual Meeting is a pre-conference session of that of the American Academy of Home Care Medicine (AAHCM) on October 29-30. The individual rate is $125/person and the group rate (five or more attendees from the same institution) is $100/person.
Visit this link and then click 'Register Now'
Enter your contact information
Select the appropriate Member or Non-Member Category if you are attending the larger AAHCM Meeting.  If not, select 'I will only be attending a paid pre-conference session'
Tick the box under '2021 Hospital at Home Users Group Annual Meeting'
Select a donation and payment option (credit card, check, or PayPal)
Click 'Submit Registration' and enter your payment information