Recorded December 5th, 2023

The Hospital at Home Users Group, in partnership with the American Academy of Home Care Medicine, is pleased to present our latest webinar for hospital and system leaders interested in learning about the opportunities and challenges associated with providing care in the home.
Hospital at Home programs around the country are expanding, some by providing in-home care for patients eligible for short-term skilled nursing and rehab care. There is great interest in the promise of this model as patients prefer to be home and avoid extended SNF stays, health systems often have waits to transition patients to SNF, and health plans pay significant amounts for SNF level care.
This webinar examines three systems' experience creating SNF/Rehab@Home programs as adjuncts to their Hospital at Home offerings. Speakers from Cleveland Clinic, Allina Health and Marshfield Clinic Health System explore the benefits and challenges of starting and operating these care lines and how Hospital at Home leaders and clinicians can evaluate whether SNF/Rehab@Home makes sense for their health system or hospital.
Moderator:
David M. Levine, MD MPH MA
Clinical Director, Research and Development,
Mass General Brigham
Associate Professor of Medicine,
Harvard Medical School
Speakers:
Jessica A. Hohman, MD MSc MSc
President, Cleveland Clinic Accountable Care Organization
Investigator, Center for Value-Based Care Research
Joshua Johnson, DPT PhD
Assistant Professor,
Cleveland Clinic Lerner College of Medicine
Director, PM&R Outcomes Research,
Cleveland Clinic
Emily Downing, MD
System Clinical Officer,
Continuing Care
Allina Health
Swetha Gudibanda, MD
Medical Director, Hospital at Home/Home Recovery Care
Medical Director, Telehealth Program (Virtual Care Services)
Marshfield Clinic Health System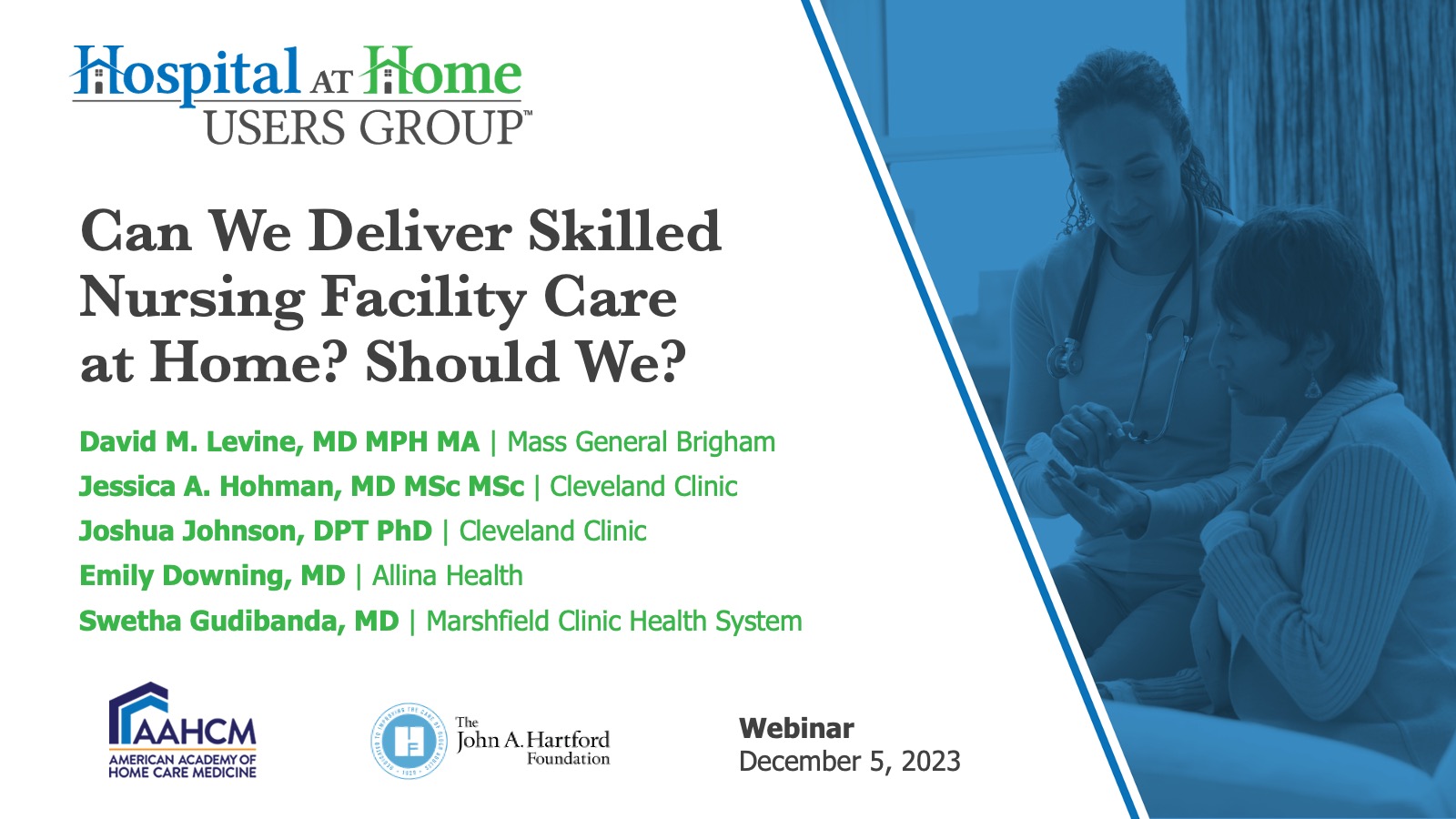 For more resources, please visit our Technical Assistance Center to browse our free library of tools on financial planning and hospital at home implementation at large.