The Nation's Largest Gathering of Hospital at Home Programs and Experts
The momentum for the Hospital at Home model in North America has continued to accelerate following the pandemic. Over the last year, there has been a proliferation of both waivered and non-waivered Hospital at Home programs. There is an increasing interest in implementing or experimenting with this program model among hospitals and health systems. At the end of 2023, Congress extended the CMS Acute Care at Home waiver, paving the way for further growth.  
The Hospital at Home Users Group has mirrored this expansion; the community has increased to more than 400 full and affiliate members. The Users Group continues to provide valuable resources for Hospital at Home programs with its learning community, technical assistance library, and educational opportunities. One of the Users Group keystone events is the Annual Meeting—and this year, they plan to go even bigger.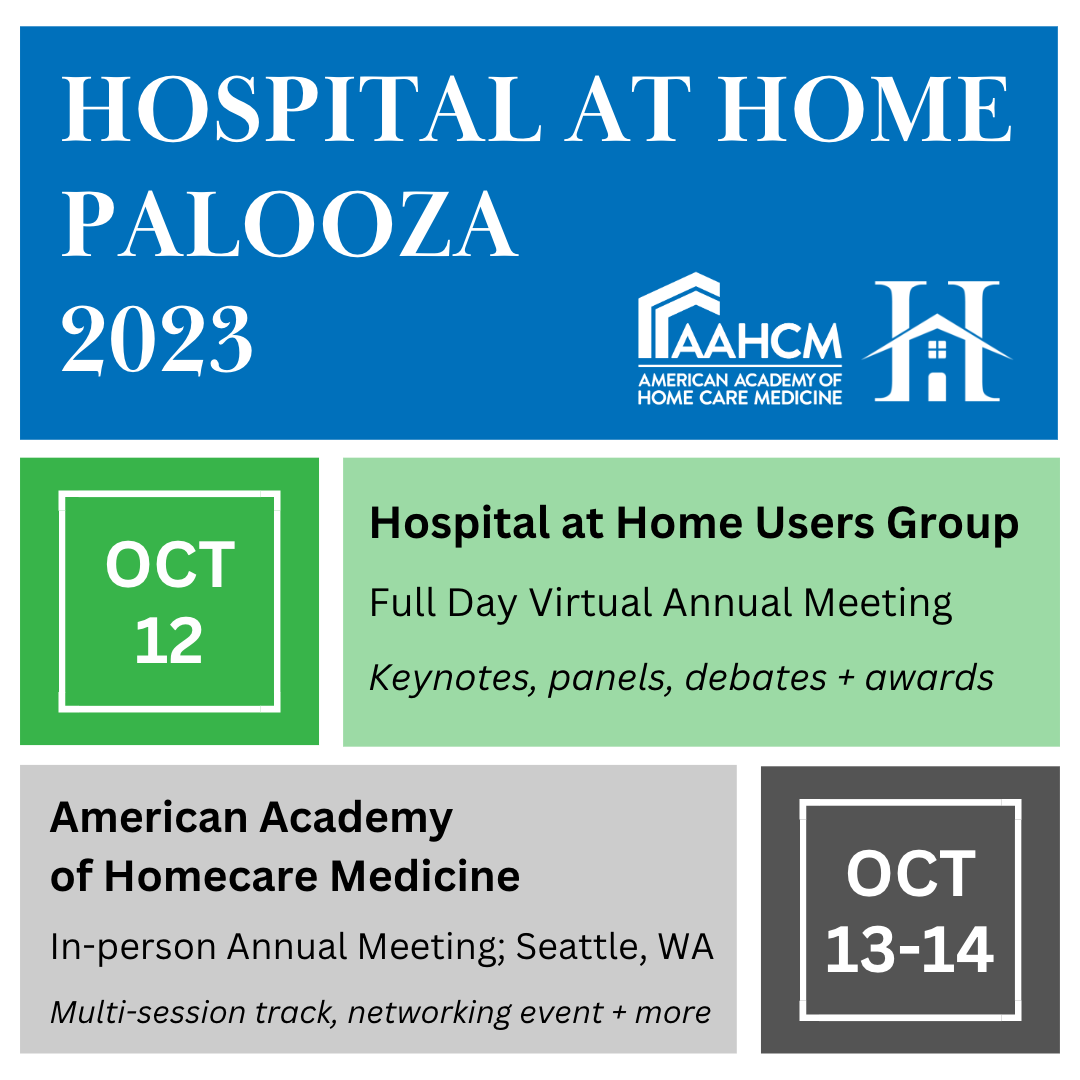 The Hospital at Home Users Group is partnering with the American Academy of Home Care Medicine to present a Hospital at Home-Palooza! 
This will be the pre-eminent North American Hospital at Home showcase and community gathering, highlighting the field's latest in acute care at home practice, policy, and research. 
The Hospital at Home-Palooza comes in two parts:
The HaH Users Group Annual Meeting 2023: Built to Last will be a virtual meeting held on October 12th featuring keynote addresses from Dan Lasserson, MD, and John Halamka, MD, MS, debates on current issues, panels on HaH caregiving and equity, networking opportunities, and the 3rd annual HaH Awards. This virtual convening will explore how best to cultivate a strong and sustainable Hospital at Home movement.
The Hospital at Home-Palooza continues October 13th and 14th with the in-person AAHCM Annual Meeting in Seattle, WA. This year's AAHCM meeting will prominently spotlight Hospital at Home, with several speaker sessions (including an introductory session presented by HaH Users Group Leadership), a dedicated section in both the exhibit hall and the poster hall, a networking event, and more. 
CME credits will be available. AAHCM members receive discounts on registration for both events.
Registration
Registration for the HAH Users Group Annual Meeting and/or the AAHCM meeting is open! Register here.
Group Registration discounts will be available until October 5th.
See this page for more detailed registration instructions.
View the HaH Users Group Annual Meeting 2023 Agenda for more details about speakers, sessions, and more!
The Users Group wants to encourage caregiver and patient participation at the Annual Meeting. All HaH Users Group programs whose staff register to attend can invite up to two hospital at home patients or caregivers to attend at no cost. Email Jane Donahue (jdonahue@aboutscp.com) with the name and email of each patient/caregiver you would like to invite, and she will arrange complimentary registration for your guest(s).
Submissions
Submissions for the Annual Meeting are now closed. We would like to thank everyone who submitted items for consideration. For those who submitted poster abstracts and/or caregiver innovations, we will be in touch mid-September with acceptance notifications.