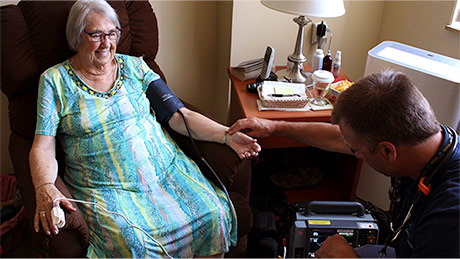 Name of the program| Complex Care Hub
Health system| Alberta Health Services
When established| 2018
Core services| Daily care and monitoring by "Care Team" comprised of community paramedic, nurse navigator, and overseen by general internist; Skype consultation with MD; Lab work and tests at home; Care team coordinates complementary services and directs patients to community health resources.
Population served| Predominantly geriatric, but also younger internal medicine patients requiring expedited workups/interventions.
Area served| Calgary
Outcomes or successes| From February 2018 to April 2019 CCH provided approximately 1150 acute care days.
Unique feature| Home visits are mainly performed by community paramedics.
Leadership| Dr. Michelle Grinman, MD
Web site| albertahealthservices.ca
Media coverage| CTV NEWS
Contact information| Office of the President and CEO of AHS: ahs.corp@albertahealthservices.ca; Tel: 780-342-2000