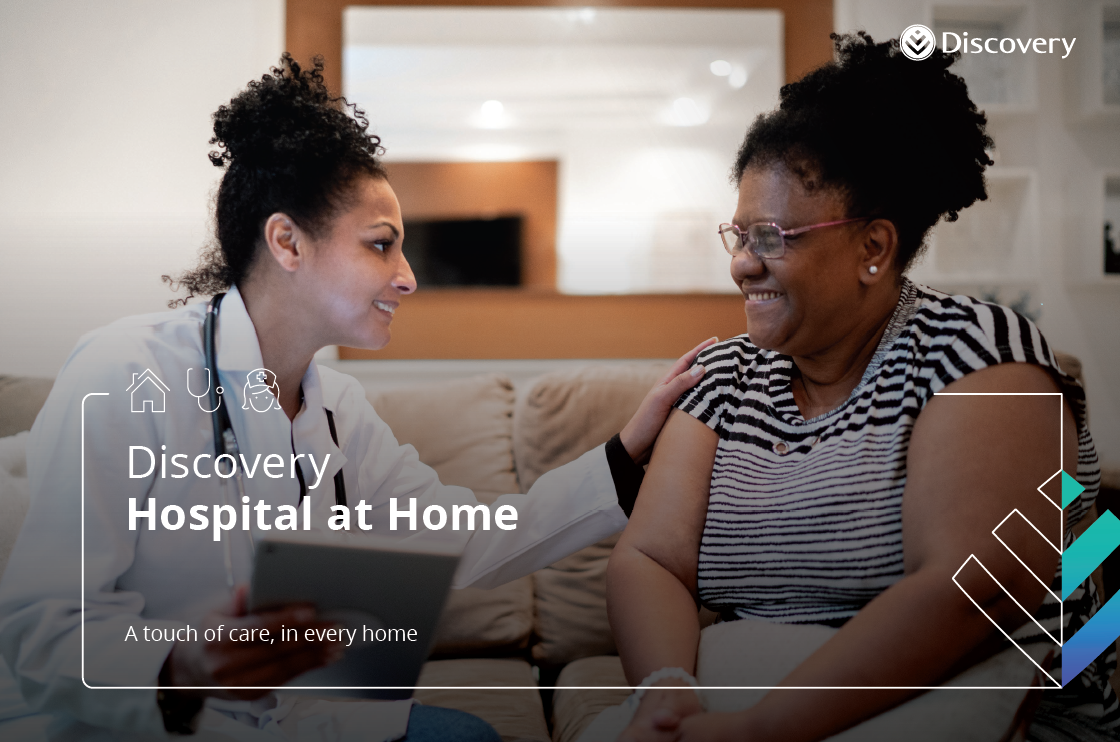 Name of the program| Hospital at Home
Health system| Discovery Health
When established| January 17, 2022
Enrollment milestones| >Enrolled 80 patients to date into Hospital at Home.
Provided 30,000 Home Care visits.
Core services| Acute Care at Home and Home Care Services
Population served| Adults 18 years and older that are acutely ill and meet our clinical and social eligibility guidelines.
Area served| Most major cities and towns across South Africa.
Outcomes or successes| In June 2022, Discovery Health won Gold in the has experienced to date. Product and Service Innovation category for Hospital at Home at the EFMA-Accenture Innovation in Insurance Awards.
Collaborated with 17 health systems in the US and the Harvard School of Public Health and Brigham & Women's Hospital in the "Home Hospital Early Adopters Accelerator Program" in developing Hospital at Home Tools (knowledge products).
Unique feature| – 24/7 remote clinical command centre staffed with emergency medicine trained physicians.
– Powered by artificial intelligence and machine learning, the remote monitoring technology for Discovery Health Hospital at Home enables continuous risk stratification of patients and detection of subtle physiological changes allowing for early identification of any deterioration in clinical condition.
– Network of reputable specialist physicians from across the country have been recruited and trained on the Hospital at Home system and service model.
– The Hospital at Home dashboard integrates with clinical workflows and Discovery's Connected Care and Electronic Health Record to streamline care coordination and the delivery of exceptional care, independent of patient location and clinical condition.
– The patient care team comprises a lead physician who provides clinical oversight and the treatment plan for the duration of the admission and also leads the daily virtual ward round.
– Registered nurses with intensive care and emergency room experience conduct twice daily in-person assessment and carry out the treatment plan the lead physician prescribes.
– If clinically indicated, allied healthcare services such as physiotherapy or occupational therapy are provided to the patient in the home.
– Emergency medical services (EMS) are on standby to ensure rapid stabilisation and escalation of care if needed.
– Every patient admitted to Discovery Hospital at Home receives a companion device and patient-facing app that enables immediate virtual access to doctors and other caregivers. With an easy-to-use interface and patient-specific customisation, the companion app is designed to improve patient engagement and compliance. The companion device comes complete with mobile SIM cards that are preloaded with data to ensure uninterrupted access to the care team and continuous syncing of patients' clinical information.
Leadership| Botho Mhozya, MD
Web site| discovery.co.za/medical-aid/discovery-hospital-at-home
Media coverage| Business Live – South Africa, Engineering News – South Africa, Insurance Journal, Business Insider (1) (2), Business Wire
Public resources| None
Contact information| hospitalhome@discovery.co.za