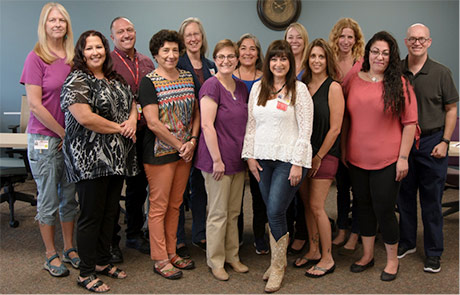 Presbyterian Hospital at Home – 10 year Anniversary-2018
Name of the program| Presbyterian Hospital at Home
Health system| Presbyterian Medical Group
When established| 10/6/2008
Core services| Hospital level care in the home for CAP, CHF, COPD, cellulitis, complicated UTI, DVT/PE, Nausea-vomiting-dehydration
Population served| Presbyterian Medical Group members 18 years old and above.
Area served| Within 25 mile radius of a Presbyterian hospital (communities include: Bernalillo, Albuquerque, Rio Rancho, Los Lunas, and Placitas NM)
Outcomes or successes| Since inception we have served a total of >1400 patients (thru 12/2019). Patient satisfaction scores are at 99%, and no infections or wounds have been acquired while on hospital at home. There have been no unexpected deaths. 30-day re-admission rate is 5.6%; 90-day readmission rate is 6.4%.
Unique feature| We serve a fairly widespread group of communities surrounding Albuquerque. Our providers cover a lot of miles. We are an integrated health system including Presbyterian delivery system (8 hospitals in 7 communities), Presbyterian Medical Group (915 providers in multiple specialties), and Presbyterian Health Plan (approximately ½ million covered lives).
Leadership|
Nancy Guinn, MD Medical Director Healthcare at Home
Elizabeth De Pirro, MD Lead Provider Presbyterian Complete Care and Hospital at Home
Catrece Studdard Director of Practice Operations
Darren Maestas, Manager Presbyterian Complete Care and Hospital at Home
Heather Rivera, Manager Presbyterian Complete Care and Hospital at Home
Web site| http://presnet.phs.org/dpts/pds/hpgah/Pages/Hospital-at-Home.aspx
Media Coverage| Kaiser Health News, USA Today, Commonwealth Fund, Washington Times, Wall Street Journal
Contact information| 505-724-7300
Elizabeth De Pirro, MD Lead Provider Presbyterian Complete Care and Hospital at Home, edepirro@phs.org
Darren Maestas, Manager Presbyterian Complete Care and Hospital at Home, Dmaestas5@phs.org